Kings and Queens Arakkonam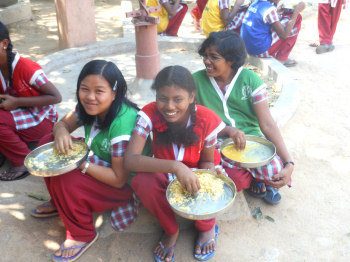 Starting with three students in 1997, this day school now has nearly 400 students, most of whom are the children of Indian Christian workers. The existence of the present school springs from the remarkable vision of its pioneers, King and Mercy, who have a real heart for providing good quality education for those children whose parents are working in remote regions of India.

Simple meals and thankful hearts - Western students could learn so much
There are approximately 20 staff members, all of whom are Christian and most of whom have a mix of roles ranging from teacher to tutor to dorm parent. Only a few live off campus. The Christian faith percolates in an overt way throughout the school by means of assemblies, twice daily devotions, end-of-period prayers and Sunday worship led by the students. The students thrive within this community and their genuine love for the Lord is expressed spontaneously in their times of worship and praise. They are creative and regularly produce cards, embroidery and other miscellaneous items that indicate that they are rich in love despite their humble circumstances. As a team, we can certainly learn lessons in humility from these dear children. The level of English taught here is impressive as is the high level of academic achievement. Both these attributes have made the school popular throughout the country with students originating from 17 different states of India and Nepal. Worthy of mention is that domestic animals and birds play a memorable role in the lives of the students with a campus that is also a home for hens, ducks, geese, turkeys, doves, love birds and dogs.

Dave went in for a week on his own. A year later the full team had the joy of spending a full week at this very special establishment. We were thanking God for the love and joy in all the staff and the students. The atmosphere there has to be experienced to be believed. It was a total privilege to be guests there. Moreover, the standard of teaching is now very high.


Mrs Sudha is an outstanding teacher at this school. She now trains new teachers coming in. We are hoping she might be able to join us on future training programmes.

We are unlikely to return in a training capacity because they have taken things to heart and have their own trainers within their staff now. We left there rejoincing that we had done ourselves out of a job there - halleluyah.