Kings School, Kollam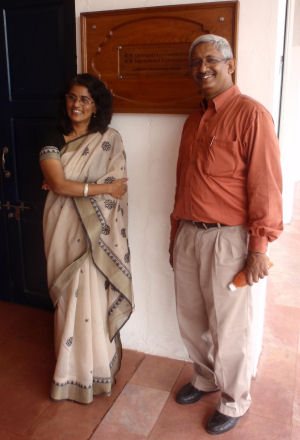 The existence of this day school springs from the remarkable vision of its pioneers, Deepa and Jeffy, who have a strong heart for the Gospel reaching out into the local community around Kollam. The Mission Statement for the school reads:-
'To be a witness of the transforming life of Jesus by raising an institution that trains up children to be Godly citizens who are equipped to be catalysts of change in society and the world at large.'
They started with two students in 1998 and now have over 800 students on their books, many of whom are from a healthy mixture of Christian, Hindu and Muslim families.
There are 105 teachers, support and administrative staff with an even mixture of Christians, Hindus and Muslims. There are prayer times, daily classroom discussions and assemblies that allow the Christian faith to percolate in an overt way throughout the school. The whole atmosphere is friendly, encouraging, purposeful and engaging and it is clear that the children are very happy and enjoy their learning. The school goes from kindergarten to Standard 12 and it follows the CIE curriculum. The level of English taught here is impressive and this has made the school popular within the local community. Though the facilities on the new site are excellent and fit for purpose, they mark only the beginning of massive expansion plans that lie ahead.
We have had the joy of delivering a week-long training course at Kings, delivering whole staff sessions as well as coming alongside teachers individually, observing their teaching and providing feedback. A year later, we used Kings as a centre for a teacher training conference for teachers from a wide area.
It is exciting to be partners with Deepa and Jeffy and see the wonderful work the Lord is doing through their ministry.